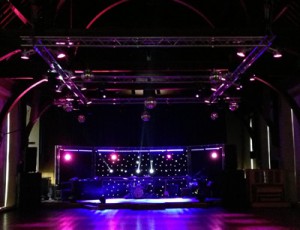 When you hire equipment from Twisted Audio, you get our automatic guarantee of quality, safety and reliability.
Our equipment is PAT tested and maintained to the most stringent standards, so we promise you, your venue and your guests a safe and worry-free experience.
Whenever you hire from us, you automatically benefit from the experience of our knowledgeable, friendly team, who'll show you everything you need to know to get the best from our equipment.
Sound Equipment and Rigging Hire
Our inventory includes everything from sound system packages designed to entertain a guest list of fewer than 120 people, to festival and club systems capable of rocking the largest venue. Twisted Audio's expertise runs from private parties through corporate events to dance clubs, so we can advise you exactly what you need for sound at your event. We also provide the rigging and hardware necessary to make our systems look fantastic and perform at their best.
Click here to find out more about the renowned brands at the heart of our hire packages, and download our sound hire rate card here. Click to Download
Lighting and Staging Equipment Hire
To get the atmosphere at your event exactly right, you need high quality lighting and staging equipment. We can provide you with whatever you need create exactly the mood you have in mind, be it as ambitious as a breathtaking laser spectacle, or as low-key as the right day-to-evening lighting scheme for your private party or wedding. Whatever the venue, Twisted Audio's team are experts at creating visual effects to complement your choice of sounds.
Visit our lighting and special effects hire page to get an idea of what we can offer. If you already know what you need, download our lighting and staging equipment hire rate card here. Click to Download
Discounted Dry Hire For Industry Professionals
We also offer discounted dry hire rates to industry professionals. If you're a hire company looking for top quality equipment, call us on 07967 663268 for further information.
Don't See What You Want? Give Us A Call
Our services and inventory are so varied that it's hard to do more on this site than give you a glimpse into what we can offer. If you'd like to work with us but don't see the equipment or service you need, get in touch anyway. It's almost certain that we'll be able to help.
Our hire packages are the first step towards putting a unique twist on your event. Get in touch with us on 07967 663268 or by filling out our contact form to get our advice on turning a great event into an unforgettable occasion.