DJ Equipment and Pioneer CDJ and Mixer Hire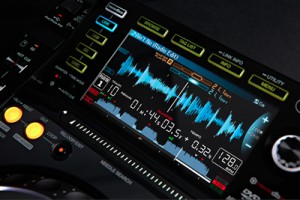 Tried and trusted industry standard decks, multimedia players and mixers lie at the heart of Twisted Audio's DJ equipment hire packages. But that's just where the story begins: featured artists may have their own preferences, or you might have other reasons for needing a non-standard set-up. Our bespoke approach to equipment hire means we're happy to liaise with you to make sure your individual specifications are met right down to the smallest detail.
We rate Pioneer because their CDJ decks and DJM mixers are the club standard, and with good reason. Not only do they produce the sounds you want, but they're also intuitive and ergonomic to use. Visit your favourite high-profile venue and it's our betting you'll find Pioneer in the DJ booth.
Pioneer CDJ-2000 Nexus Player
A CD player which can also handle playback from several different formats, the CDJ-2000 Nexus remains the most powerful and versatile player any DJ could wish for. Sound quality is stellar even at club volumes thanks to the use of Wolfson DA convertors, and the proprietary rekordbox DJ software enables you to prepare sets your audience will go wild for. And with the illuminated control panel, manoeuvres in the dark are no longer a problem.
Pioneer DJM-900NXS Nexus Mixer
The DJM-900XS mixer is an updated version of the evergreen DJM-800, the most popular club mixer of recent times. It uses the same layout as the earlier model, so users accustomed to the 800 will find the learning curve gentle enough to navigate with ease. But the Nexus is not just an 800 with a facelift: many familiar features have received upgrades, and there are a few new ones, too.
The Nexus is easier to use than its predecessor thanks to a touch-strip control beneath the screen. It makes the process of manipulating effects while using the faders much more ergonomic. But the most exciting new features of the DJM-900NXS has to be its advanced connectivity, allowing you to connect numerous decks, laptops or sound players via an Ethernet connection.
Technics 1210 Mk2 Vinyl Turntable
If vinyl is your medium, you won't do better than the legendary direct drive SL-1210 Mk2. This top selling turntable is cased in a die cast aluminium cabinet and set on a rubber base, providing excellent vibration damping even in the busiest of clubs. And the quartz direct drive motor gives you a level of control unmatched by other turntables.
Club Standard Equipment and Comprehensive Training
When you hire DJ equipment from Twisted Audio you're getting club standard technology maintained and tested according to the most rigorous guidelines. We'll also provide you with all the training you need to use our DJ equipment with complete confidence. We've got everything you and your resident artists could possibly need to give your guests an occasion to remember.
Click here to ask Twisted Audio to equip your DJ booth